In the ever-evolving world of sales, one thing remains constant: the need for a steady stream of high-quality leads. This is particularly true for professionals in the merchant services industry, where finding businesses needing payment processing solutions is paramount. That's where Leadscampus comes in.
Leadscampus is a leading provider of merchant services leads, offering a comprehensive database of qualified prospects ready to explore payment processing options. With their cutting-edge technology and extensive network, Leadscampus enables you to unlock the potential for success by connecting you with businesses actively seeking merchant services.
Join us as we explore proven tactics, industry insights, and the power of Leadscampus in driving your merchant services sales to new heights. Get ready to unlock success and tap into a world of lucrative opportunities. Let's dive in!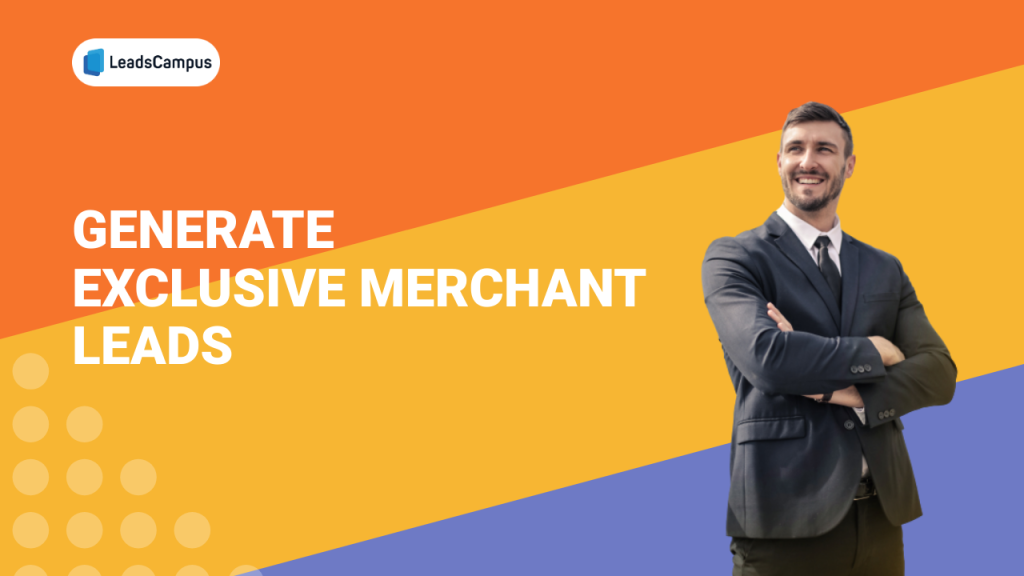 The Ultimate Guide to Selling Merchant Services: 11 Tips You Need to Know
Selling credit card processing services requires a strategic approach. These tips can help you close more deals and meet your quota.
1. Crafting Your Ideal Customer Profile (ICP)
To sell merchant services effectively, you need to know who your ideal customers are. This is where the Ideal Customer Profile (ICP) comes in.
Your ICP should represent a fictional company that can benefit from the products or services you offer. This profile should include details such as industry, location, company size, budget, and pain points.
By creating a clear ICP for your sales team, you'll know exactly who to target when prospecting, making the process more efficient.
2. Create Your Unique Selling Proposition:
To succeed in selling merchant services, it is crucial to differentiate your platform from competitors.
Determine what sets your business apart. For example, you may offer a comprehensive solution that goes beyond basic payment processing.
Emphasize the reliability of your product or the exceptional customer service provided by your team.
3. Set Clear Activity and Performance-Based Goals:
After identifying your target market and emphasizing your unique selling proposition, it is essential to keep your sales representatives accountable.
Set clear goals based on both activities and performance to drive productivity and track progress.
Assign specific daily targets for lead generation, such as the number of leads to source per day.
Establish goals for regular prospect outreach, specifying the number of prospects to contact per week.
4. Keep the Basics in Mind:
Speak less, listen more: Top salespeople talk 46% of the time and listen 54% during sales calls.
Demonstrate value: Prove to prospects that your offerings are valuable by using your USP to clarify their benefits.
Prepare for objections: Track common objections and teach reps how to respond effectively.
Be transparent: Encourage reps to be transparent and never trick their prospects into buying.
Choose the right merchant service partner: Only work with partners that genuinely care about your customers and offer omnichannel solutions.
Secure the processing statement: Visit your customers multiple times, if necessary, to secure a processing statement.
Be flexible with pricing options: Offer flexible pricing options to differentiate your offerings from the competition and make more sales.
5. Implement a Diverse Sales Approach:
Utilize a multichannel sales strategy to effectively sell merchant services.
Relying solely on in-person visits may limit your sales potential, especially in a post-COVID world.
Encourage your sales reps to leverage various communication channels, including in-person visits, telephone calls, emails, text messages, and social media.
Ensure you have a comprehensive tool in place to track and manage all communication efforts by your sales team.
6. Harness the Power of Your Existing Customer Base:
While your sales representatives focus on acquiring new prospects, it's essential not to overlook the potential of your existing customers within the territory.
Encourage your reps to maintain regular communication with current customers and not to underestimate their value.
Existing customers can provide valuable testimonials that can be leveraged to build trust and influence future prospects in their buying decisions.
Additionally, satisfied customers can become advocates for your business by referring new prospects, a highly valuable source of potential leads.
7. Optimize Territory Assignments for Sales Representatives:
Properly assigning sales territories is a critical aspect of selling merchant services effectively.
It is essential to allocate territories that offer a sufficient number of high-quality leads to keep your sales representatives engaged and productive.
However, it is equally important to strike a balance and avoid overwhelming territories that may result in potential buyers being overlooked.
8. Utilize ICP Data for Identifying Qualified Prospects:
In addition to the previously mentioned tips for selling merchant services, there's another effective strategy: encourage your sales representatives to leverage ICP data to source qualified prospects.
Implement a custom rating system within your company, such as a three-tier system comprising categories like "Best," "Good," and "Bad." This allows your reps to sort prospects based on their alignment with your ICP.
By utilizing this sorting method, your sales team can prioritize their efforts on high-value leads that closely match your ideal customer profile.
9. Monitor Essential Daily Sales Activities:
As mentioned earlier, it is crucial to set activity and performance goals for your sales team. However, tracking these goals is equally important to ensure their achievement.
Focus on tracking the daily sales activities of each representative on your team. This includes monitoring metrics such as lead generation, customer visits, and other relevant sales-related actions.
By tracking these activities, you gain visibility into the efforts made by your reps and their ability to control and influence key sales actions.
10. Streamline Repetitive Tasks in the Sales Process:
To expedite the process of selling merchant services, it is essential to implement an automation platform that can handle repetitive tasks.
By automating these repetitive parts of the sales process, you can significantly enhance the productivity and efficiency of your sales representatives.
11. Equip Your Team with the Appropriate Tools for Success:
It is crucial to provide your sales representatives with the necessary tools to excel in their roles.
Ensure that your reps have access to the right set of tools that support their selling efforts effectively.
Final Thoughts: Unleash Your Potential in Generating High-Quality Merchant Leads!
In the competitive landscape of merchant services sales, unlocking success requires a strategic and proactive approach to generating high-quality leads. Throughout this guide, we have explored a range of effective strategies and tips that can empower you to excel in the pursuit of merchant service leads.
By leveraging the expertise and resources of Leadscampus, a leading provider of merchant service leads, you can take your lead generation efforts to new heights. With their comprehensive database and advanced targeting capabilities, Leadscampus can connect you with potential customers who are actively seeking the merchant services you offer.
So, why wait any longer? Make the smart choice and select Leadscampus today to witness the thriving growth of your business.