In the competitive world of insurance, the ability to generate high-quality leads is the key to success. Insurance agents and companies need a steady stream of qualified prospects who are actively seeking insurance solutions. However, with the evolving digital landscape and changing consumer behaviors, traditional lead generation methods may no longer be as effective. To thrive in this industry, insurance professionals must adapt and master new strategies that attract and convert high-quality exclusive insurance leads. In this article, we will explore proven strategies that can drive success in generating top-notch insurance leads.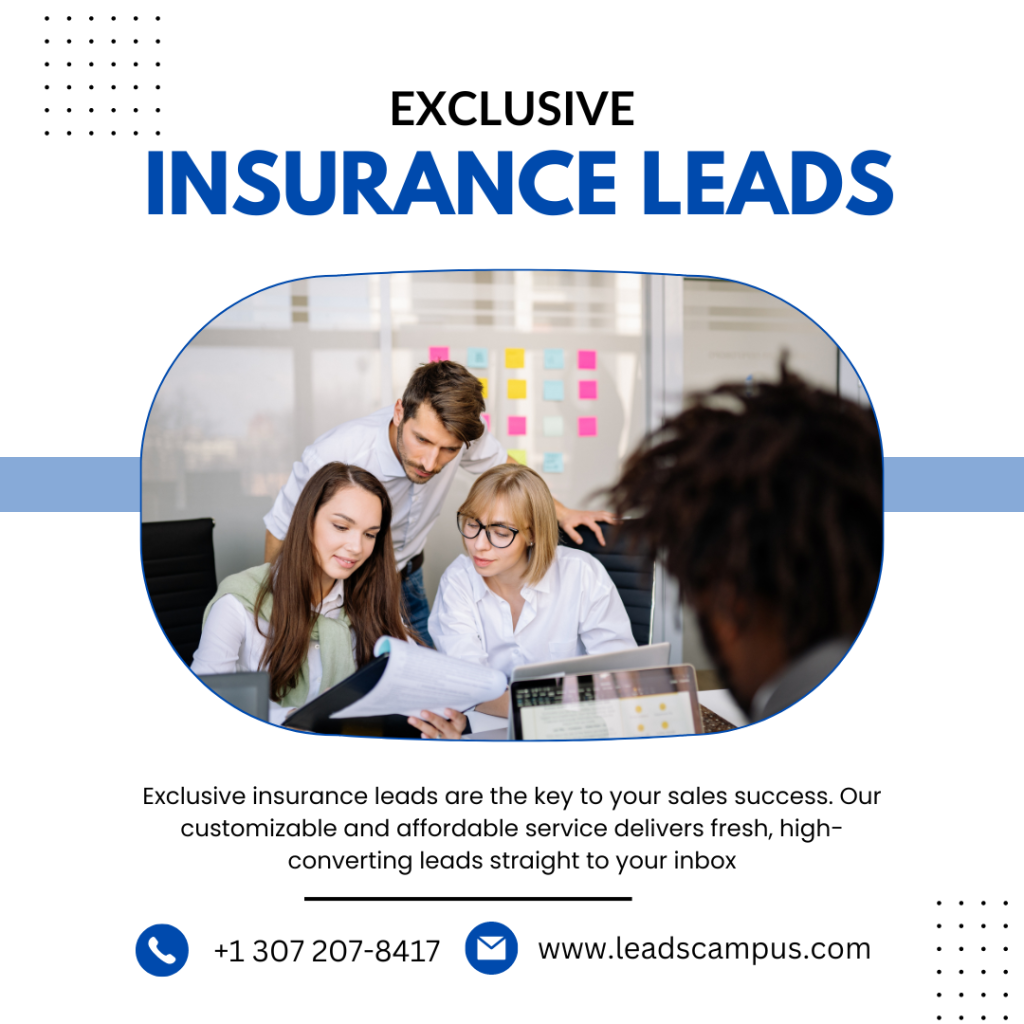 Understand Your Target Audience:
Before diving into lead generation strategies, it's crucial to have a deep understanding of your target audience. Identify the demographics, interests, pain points, and motivations of your ideal insurance customers. This knowledge will allow you to tailor your marketing efforts to resonate with your prospects effectively.
Create Compelling Content:
Content marketing plays a pivotal role in attracting and engaging potential insurance leads. Develop a content strategy that includes blog articles, videos, infographics, and social media posts. Your content should be informative, educational, and relevant to your target audience's needs. By positioning yourself as an industry expert and providing valuable insights, you will build trust and credibility, leading to higher-quality leads.
Optimize Your Website for Lead Generation:
Your website is the digital face of your insurance business. Optimize it for lead generation by incorporating lead capture forms, compelling call-to-action buttons, and landing pages specifically designed to convert visitors into leads. Implement tools like pop-ups, live chats, and exit-intent overlays to capture visitors' attention and encourage them to provide their contact information.
Leverage Search Engine Optimization (SEO):
Invest in search engine optimization to improve your website's visibility in search engine results. Conduct keyword research to identify relevant keywords and phrases that potential insurance leads are searching for. Create optimized content around these keywords to attract organic traffic and increase your chances of capturing high-quality leads.
Harness the Power of Social Media:
Social media platforms provide a vast pool of potential insurance leads. Establish a strong presence on platforms like Facebook, LinkedIn, Twitter, and Instagram. Share engaging content, interact with your audience, and join relevant groups or communities. Utilize targeted advertising to reach specific demographics and promote your insurance services directly to interested prospects.
Implement Email Marketing Campaigns:
Email marketing remains one of the most effective ways to nurture and convert insurance leads. Build an email list by offering valuable content, such as e-books, guides, or newsletters, in exchange for visitors' email addresses. Develop personalized email campaigns that deliver relevant content, promote your services, and guide leads through the sales funnel.
Collaborate with Referral Partners:
Establish partnerships with complementary businesses or professionals, such as real estate agents, financial advisors, or mortgage brokers. Offer mutual referrals to tap into their existing client base and generate high-quality insurance leads. Develop referral programs or incentives to encourage your partners to refer clients to your insurance services.
Invest in Paid Advertising:
Paid advertising, such as Google Ads or social media ads, can significantly boost your lead generation efforts. Utilize targeting options to reach specific demographics, interests, or geographical areas. Design compelling ad creatives and landing pages that drive conversions. Monitor and optimize your campaigns to maximize your return on investment (ROI).
Track and Analyze Lead Generation Metrics:
To fine-tune your lead generation strategies, it's crucial to track and analyze key metrics. Monitor metrics such as website traffic, conversion rates, email open rates, and lead-to-customer conversion rates. Use analytics tools to gain insights into your lead generation efforts and make data-driven decisions to optimize your strategies.