If you own your own web design company, you should be aware of how crucial obtaining web design leads is. New leads keep your business afloat. The company will expand if you can constantly bring in new customers.
However, new business owners will agree with you when they say it's difficult to generate leads. For your benefit, a lot of people have been in your position.
Some tactics have been demonstrated to work that you can use in your business. We'll go through ten strategies in this article for getting web design leads for your company.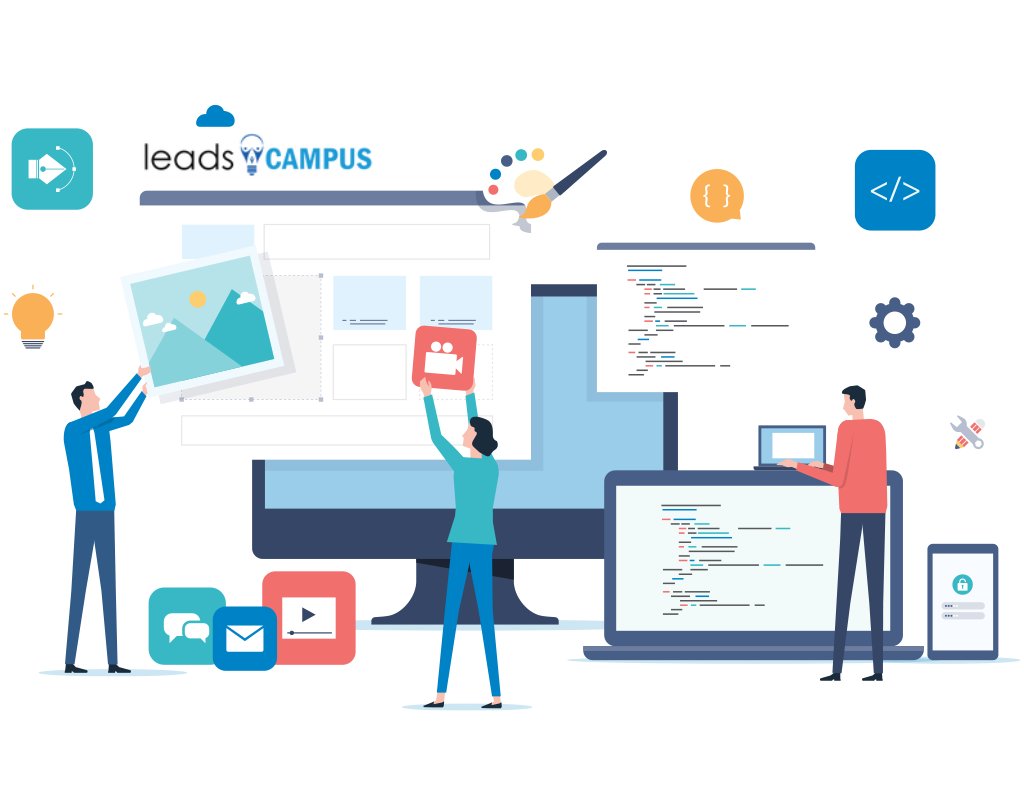 Set aside time to pursue leads for web design
At least not when you're first starting, it's rare that you'll have people approach you asking about your services. You must aggressively prospect for leads. That entails finding businesses that could use your service, getting in touch with them, and making your proposal.
Set up an hour each day to prospect leads if you're a one-person team. You will need to start by developing a customer persona. You can determine what kind of firm to target with the use of a client persona.
The next step is to compile a list of companies that match the customer persona.
The next step is to establish connections. LinkedIn is a good option for B2-B companies. You can connect with employees at a company you wish to work for through LinkedIn. For instance, the company's creator or the Chief Marketing Officer. Make your pitch after that.
A strong pitch should:
*Describe why they require your service and the advantages they can anticipate.
*why they should request the service from you. It might be because you have experience in their market, have a competitive price, etc.
Using freelancing work sites is another option you have, in addition to cold prospecting. Search online directories as well.
If you have a team, assign someone to be in charge of this. Additionally, that person should be in charge of keeping track of sales indicators including the agency's warm lead database, scheduled calls, and concluded agreements.
The basic truth is that, as a web design company, you shouldn't just concentrate on your current clients. Getting leads should be a priority for you as well.
Create an Eye-Catching Website
If your company still lacks a website, I advise you to have one created right away.
In order to research a brand before making a purchase, 47% of consumers visit its website, according to KPMG's Global Online Consumer Report. This behaviour transcends generations.
However, don't stop at having a functional website. Your website needs to be attractive in order to attract visitors, not merely presentable. Keep in mind that you are a web design firm. A design-focused business can expect nothing less from potential customers.
The website needs to function properly as well. Even if your website appears fantastic, if it takes too long to load, potential customers won't be impressed.
Hobo Web claims that a two-second load time delay might result in abandonment rates as high as 87 percent. Websites that take longer than four seconds to load lose visitors.
Are you familiar with Hectic? It is now our go-to tool for smarter, not harder, freelancing. Billing, proposals, project management, and many more things. Hectic has everything.
The service you provide is reflected on the website. To get those web design leads, your website should appear polished and imaginative.
Run a blog.
You should start blogging if you're serious about obtaining web design leads. I'm confident that you are aware of a blog's benefits for your company.
Here are a few justifications for starting a blog:
*Establish yourself as an authority in your subject so that you can educate potential customers through your blog postings.
* Make a connection with readers on a personal level; each article you publish is an opportunity to showcase your individuality. You are more likely to close a deal if you can establish a connection with a customer.
* Get inbound leads; one of the finest ways to boost website traffic is by blogging. More visitors increase your chances of generating leads.
Of course, the blog posts you write should be relevant to what you're doing.
You can talk about web design leads or trends in your writing. You can discuss the components of an excellent site design.
Use terms like "web design agency," "web design," and "web design trends" in your blog entries that anyone interested in web design will look up on Google or any other search engine.
A fantastic resource for finding keywords to write about is Keywords Everywhere. You can get the Firefox add-on or the freemium Chrome extension.
Establish a web portfolio
Potential clients who are interested in working with you on web design will want to know if you can provide the service you guarantee. You can display samples of your prior work to clients by using your portfolio.
The evidence you require to support the assertions you make in a sales call is provided by a strong portfolio. Additionally, web design leads that you are unaware of will probably check out your portfolio before getting in touch.
Make a distinct section of your website for your portfolio.
Be sure to talk about the client's requirements and how you met them when demonstrating your work. Generally, talk about how you made a website that not only looked amazing but also aided the company's expansion.
London-based Creative Brand Design agency is a good illustration. Each case study in their portfolio is accompanied by some site writing that explains the project's context. You discover the design brief as a reader and what the agency produced for that specific project.
The key takeaway is this: If you provide case studies, be sure to include data and how much time your agency put into developing the website. To entice people to get in touch, you want to give them information.
Be Sure to Include Your Phone Number and Email Address
On your website, make sure to prominently include your phone number and email address. The header of the website is the ideal location for such, according to LeadGenApp. That is reasonable. Roman alphabet users normally read from top to bottom.
Your contact information will be one of the first things visitors to your website will notice.
Just a friendly reminder: Don't mention your email address or cell phone number. Use the business-related phone number and email address of your office. Use something other than a coolkid16@gmail.com email address.
Streamline Contact Forms
Share an online form in addition to a phone number or email address. A systematic mechanism for directing queries is offered by web forms.
The web form need to be simple to use. Make it simple for interested leads to get in touch with you, in other words. Don't inquire about pointless stuff. Make it clear and simple to use.
Here's a fantastic illustration from San Francisco-based Flickerbox:
There are only three fields, as opposed to at least six fields I've seen in the contact forms of other web design companies. All the interested web design leads would have to do is type a few words and then submit.
If you want to gather additional information, you can always send the web design leads to a thank you page with a link to a short questionnaire. That way, you collect their contact details straight away and can gain additional information after you gained their details.
7.Use social evidence
Businesses in general are risk-averse. People want to be sure they will receive what was promised when they pay money. Including social proof on your website is an excellent method to ensure visitors that you'll fulfill your promises.
Include case studies and prominently display client testimonials on sales pages. Social proof gives website leads the reassurance that your users are not being used as test subjects.
Asking your previous clients for input is a simple way to get testimonials.
Send clients a thank-you email after a project, for instance, and then kindly ask them to respond to some questions about your work.
You should be able to improve your services by using the feedback you receive from the questions to better your work. Ask for feedback in the form of a testimonial that you can publish in addition to these questions.
Finally, but equally crucially, never fabricate customer testimonials. In addition to the fact that this is extremely immoral, you risk losing your credibility and web design leads if people find out you deceived them.
An AB test
Make sure your website's components are properly optimized for conversions. Does your contact form's "Submit" call-to-action generate more conversions than "Contact Us," for instance?
You can A/B test a variety of website elements.
You can determine, for instance, whether one headline is more effective than another or whether it would be best to get rid of the navigation bar. Customer reviews may benefit from being positioned differently.
Making even minor adjustments to features like headings, CTA button colors, font style, title tags, and client testimonials can have a significant impact.
A/B testing gives you statistical information to verify the veracity of the presumptions you are acting upon. As the proprietor of an agency, you must set up time in your calendar to test out different website components.
Build a Wider Network
You must network to obtain web design leads. As I mentioned before, you can do this online using social networks like LinkedIn. Additionally, you ought to interact with pertinent offline and online networks.
Find local web design events using websites like Meetup.com and go there. Alternatively, search for those events on Facebook groups for web designers. Simply using the search tool will allow you to look for these.
Be mindful to interact with others when you visit the events. distribute calling cards or trade contact details. The goal is to network with as many people as you can, so they may recommend you to other web design leads they may have or hire your company when a project arises.
However, you are not just required to physically attend the activities. Online events are increasingly commonplace today. Perhaps a business that might also be a potential client is hosting a webinar.
Or you might sign up for related internet forums. Here are seven useful ones for web designers, according to 1stwebdesigner:
Coffeecup forums
Killersites community
Sitepoint forums
Designer News
Reddit
Devshed
Designer Hangout
Web Designer Forum
DigitalPoint
Don't forget to follow up after attending events when networking. When you network, you should take care of the connections you make. Don't merely ask for help when you need it.
Focus on a Particular Niche
The web design market is quite cutthroat. You are likely already aware of this.
There are numerous web design firms, which makes it challenging for smaller organizations to compete. The trick is to find something that will set your business apart.
Niching down or specializing can make you stand out. You may offer a service to real estate companies, for instance, rather than marketing your business as just a web design firm.
Pick a niche in which you and your staff feel at ease.
By focusing on a particular industry, you may miss out on some prospects, but you'll end up with more web design leads overall. It's a compromise, but you'll discover that many businesses are content to make it because it makes obtaining and securing web design leads simpler.
How to Convert Leads for Web Design into Clients
Not every web design lead you speak with will end up being a customer. However, by putting in place defined protocols to funnel inquiries, you can increase your conversion rate from prospect to sale.
Initially, learn as much as you can about the prospect. Before your meeting, you may have them respond to a quick survey. Inquire about their objectives, the metrics by which they will determine success, and the project budget.
In a sales meeting, be certain that your pitch complements its objectives. Talk about how the job you'll do will help them accomplish their goals, whether that's getting more clients or earning more money.
Make a project proposal once the deliverables have been agreed upon. After that, phone the project lead to discuss the project idea. This kind of sales funnel is intended to convert as many prospects as possible into paying customers.
Conclusion
Any business, even those that provide web design services, must generate leads in order to survive. This means that when assigned a project, you and your team shouldn't merely concentrate on doing it well. You ought to concentrate on generating leads for site design.
In this manual, I've laid out the tactics you ought to employ to accomplish this. It's now up to you. Only keep in mind that you shouldn't use these tactics just once.
To turn them into clients, use these consistently and adhere to my directions. Sending occasional client gifts or cards will help you maintain your client ties. If successfully carried out, you'll see that your agency won't run out of tasks very soon.