Even though direct mail marketing began in 1892, people still find it to be quite attractive.
Numerous factors contribute to this, including the fact that 73 percent of American consumers say they prefer receiving direct mail from firms because they can read it whenever they want.
Of course, sending a direct mail item doesn't guarantee it will be a huge success. It is necessary to follow best practices together with a certain level of planning.
So, to succeed with your direct mail marketing plan, think about taking these 13 actions before you send out your next direct mail campaign.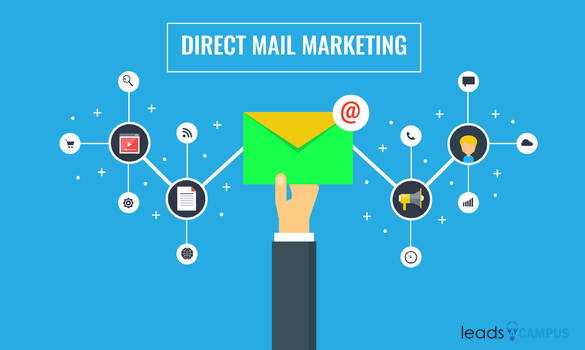 Select the appropriate leads
Businesses frequently mail a piece to every address on their mailing list. But to more effectively target the right leads, you should spend time segmenting your direct mail list just like you did with your email list.
Consider selling smartphones that are connected to a particular network. If customers switch from your competition to you, you're proposing to buy out their contracts.
However, in addition to prospects, your direct mail list most certainly also includes the names of current customers. And your direct mail campaign shouldn't target folks who already use your network.
You increase your chances of increasing your ROI by keeping your list as focused and limited as you can.
Purge Corrupt Data
A direct mail campaign's effectiveness depends on reaching the right audience. However, when was the last time you updated your list with the most recent data?
Your consumer communications will reach the intended audience thanks to data improvement. Use this tool to check that the postal addresses in your customer files are valid and deliverable, or to rapidly find duplicates and delete any unnecessary information from your lists.
Establish Realistic Objectives
These are known as S.M.A.R.T. goals in marketing. Because it may be alluring to establish a goal like "the most well-liked women's retailer in Los Angeles," that information is extremely difficult to quantify. What we mean by "S.M.A.R.T." aims is as follows.
What specifically do you hope to achieve?
Measurable: How will you know when a goal has been attained?
Obtainable, but not overly simple!
Realistic: Avoid pursuing unrealistic goals.
Timed: Set a deadline for yourself to achieve your objectives.
The following are some instances of S.M.A.R.T. goals that relate to the examples given above:
Customer count increased by 10% in Q3
dentify the location of the new retail store.
this year, double the number of people signing up for loyalty programs.
Send two direct mail pieces every three months.
Examine Your Budget
You can decide how much you're willing to spend once you've established your goals. Be receptive! Giving yourself some room in your budget will enable you to design an exceptionally distinctive item that clients will be talking about with neighbors even if direct mail can be inexpensive, costing just pennies per piece!
Direct Mail Comparison
When you think about direct mail, what comes to mind? There are several options accessible, including letters, postcards, brochures, and catalogs. What do you believe would appeal to your clients the most?
Letter and Envelope
Because so much effort is put into making it, this type of direct mail is very individualized. And more importantly, your clients are aware of this! The envelope and letter combo often have one of the greatest ROIs for firms, with a response rate of 4.3 percent.
Postcard
These straightforward, reasonably priced direct mail pieces can be tiny or huge and can make their point swiftly. Additionally, they receive an average response rate of 4.25 percent.
Brochure or a catalog
Glossy catalogs and brochures are the ideal way to offer comprehensive information about your goods or services as well as any impending discounts. And with an average response rate of 3.9%, they are still a preferred option for many shops.
Don't forget about how you prepare your direct mail item in addition to shapes and sizes. Direct mail campaigns using recycled paper, chemical-free paper, or even paper made without trees are more environmentally beneficial.
Make a Timeline, please.
Do you plan to send out two or three direct mail pieces per quarter, or will you be designing a one-time campaign? Will you send a piece to your full section at once, or will you send it to half first, measure reactions, and then send the remaining portions after seeing how it performs?
The success of your direct mail campaign(s) depends on how quickly you set one up.
Produce Powerful Copy
There isn't much room in direct mail to make a message. But remember to always use the following copy, regardless of the type of item you send.
Headline
This succinct statement urges your lead to read on. Boring headlines won't get read, and homes might just throw them away entirely. A good headline doesn't need to be informational; it can also be humorous, clever, snappy, or playful. Direct mail subject lines should generally be no more than six words long.
Subhead
A subhead can provide your reader extra context while your headline should pique their interest. You should aim to write no more than 8 words in direct mail that provide further context for the paragraph above.
Body
How captivating your body content is will determine whether or not readers stay reading your direct mail piece in addition to the headline and design.
Avoid using jargon
Unless you're speaking to a sophisticated audience, stay away from acronyms and shop language. It is true that there is nothing wrong with demonstrating to your clients or potential clients that you are an authority in your field. But if they can't relate to you or understand what you're saying, you'll lose them.
Use the active voice.
Words and phrases like am, was, are, and should be are used in passive writing. However, you should avoid using these kinds of words in your text because they weaken it and you only have a very little amount of time to convey your point with direct mail.
Make the copy concise.
Readers of direct mail like short, digestible material. Avoid paragraphs entirely and stick to a logical framework. Instead, to make it easier to scan, use a few short lines followed by bullets or subheadings
8. Create a Powerful CTA
This technically belongs in the section above copy. However, it is so significant that we had to assign it its category.
What you want your direct mail leads to do is respond to a call to action or CTA. The majority of direct mail pieces have a callable number, a website address, or both.
Be Original
Today's direct mail pieces can feature a wide range of creative components in addition to visuals and colors. And making use of such aspects can enhance the user experience.
Discuss the possibility of including texture, cut-outs, odd sizes or folds, or even something interactive, with your creative team.
Insert digital components
In and of itself, direct mail is a marketing powerhouse. However, incorporating a digital component has been shown to boost response rates by 63 percent.
But how can your upcoming direct mail campaign incorporate a digital component? Direct mail can use special QR codes, a URL that leads to an online live demo or tour, and chips for smartphones to draw interest online.
Think about an A/B Test
Two copies of something are sent, usually with a single little modification. You may, for instance, send a postcard that is identical in every manner except for the headline. You may be able to learn which of our direct mail pieces performs better by putting them to the test with your target demographic. You can then utilize that knowledge to refine your direct mail marketing plan over time.
Review Your Findings
Collecting data on your piece is the only way to increase your direct mail ROI and achieve the S.M.A.R.T. goals you established. Additionally, you are not constrained to gathering response rates. Have a method for gathering more data from respondents.
When they access the URL you provide, they can complete a brief survey online. Alternately, a salesperson can ask for feedback after a call. Your future direct mail marketing campaign will benefit from knowing what motivated recipients to respond or what attracted to them your direct mail piece.
Collaborate with a Direct Mail AND Data Leader
Numerous businesses can assist you in creating distinctive direct mail items. Few, however, can also assist you in updating an existing data list with the most recent data.